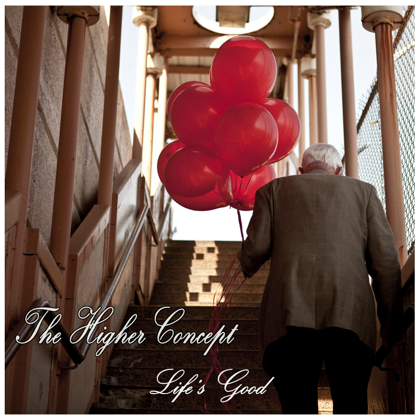 CLICK HERE TO DOWNLOAD "LIFE'S GOOD" FOR FREE!
CLICK HERE TO DOWNLOAD THE LIMITED EDITION OF LG!
Life's Good is the 4th album from The Higher Concept. The album features production from J. Glaze, Mike Cash, Jon "Flip" Muro, and Tekst.  The sound is much more modern and features almost completely live music on EVERY track!  Also on the album are Sixth Sense, Amerika, JoyLuv, Jack Brown of Sophistafunk, Deshawn Chalant, The Contraband, Christina LaRocca, and more! Its certainly The Higher Concept's most advanced work to date.
The free version contains tracks 1 – 14
The Limited Edition is available with tracks 1 – 19, the lyrics booklet, and all original artwork!
Life's Good ft. 6th Sense (Prod. by J. Glaze)
I Love Music (Prod. by Mike Cash)
Find A Way ft. Paul Marz and Jack Brown (Prod. by Mike Cash)
One Step ft. Basic (Prod. by J. Glaze)
We Fly ft. Deshawn Chalant (Prod. by Mike Cash)
So High ft. Amerika (Prod. by Mike Cash)
Mirrors ft. J Muse (Prod. by Tekst and The Contraband)
Rise and Fall ft. Nation and Snow (Prod. by Tekst and The Contraband)
HPB ft. Christina LaRocca (Prod. by Mike Cash)
Proceed (Prod. by J. Glaze)
Hello Goodbye ft. JoyLuv (Prod. by Jon "Flip" Muro)
Runnin ft. Nation (Prod. by J. Glaze)
Airport (Prod. by Tekst and Sean Ferguson)
Constellations (Prod. by J. Glaze)
Rebirth (Prod. by Mike Cash)
What Makes You Different (Prod. by Mike Cash)
Matty J – Guestlist (Prod. by J. Glaze)
IB – Walk Away (Prod. by J. Glaze)
Tekst – Watching Me (Prod. by Jon "Flip" Muro)
Read the Reviews.
OurhythmNation: "Like the 8 Mile MC, they carry the same word play capability and intelligent lyrical design, but maybe more importantly than that, their content carries the purity, honesty and weight that would assumed to be reserved for the likes hip-hop Mt. Rushmore nominees of De La Soul, KRS-One or A Tribe Called Quest.
HailMegatron.net:  "This mixtape is really, really good. It's has a good "feel good" sound to it and the lyrics are really meaningful and deep. This is one of those mixtapes that will have good standing value in years to come."
Aboveground Magazine: "this is more than just your typical slacker-stoner album, THC have some serious skills as MCs."
5 Star Hiphop:  "I can honestly say that this is a must have project, so do not waste time, and hit the link below for a free download."
Antisteez.com: "You cannot put THC in a category or genre because that would be musical ignorance. THC is good music period. What we all need to do is go dig in their crates get their old stuff, present stuff and get anxious for the future projects. Life is Good when you have treasures like this in your possession."
James Ryan Moreau of NotSoLiteral.com: The fellas of The Higher Concept, hailing from Staten Island have put a solid effort fourth in their latest album Life's Good. Up front, the beats and instrumentals are varied and interesting. From the opening track of "Life's Good" you're given a soulful guitar riff and rhythmic piano notes over a steady beat. Other tracks are more synthesizer heavy, such as the track "One Step Ahead," reminiscent of 90′s low-rider era West Coast hip hop with trumpets accenting the instrumentals.
What's more remarkable than the beats and production are the concepts behind these songs. This is a positive hip hop album and is done from thoughtful and sincere perspective. "Life's Good" is the theme throughout the album and is woven creatively through themes of overcoming personal hardship, to letting go of stress via medicinal and reflective habits (the track "So High." Whether talking about their own lives, to telling compelling stories like in the track "Airport,"
I'm excited to hear more from The Higher Concept after checking out Life's Good. There's a lot of bland rap on the market right now, but these guys seem to have a genuine and positive agenda with their music. I hope these guys get some exposure and more opportunities to develop their sound and presence in the market. But for now, Life's Good is an excellent effort.
Tilted Tongues:  "..I Wanna Bake And Listen Again.."
FreshNewTracks.com: "I'm loving "Rise and Fall"; it sounds like a Red Hot Chili Pepper jam with a few rap verses thrown in the mix."
Cliff Huxstable.com: "Some Good sounds from some twitter friends"
Everything Sunshyne:  "THC has just dropped a new album titled 'Life's Good' and if that ain't true for ya then listening to this album will make your life good. Original beats, meaningful and creative lyrics, and videos that make you feel like they're your homies, your peoples. They keep it real basically and this album is another way for THC to express their love of music, and according to the ablum title, what it's done for them. Every great album has always had artists that are passionate about music, not just the rewards of it, and THC has created 'Life's Good' with just that message….
Reviving hip hop one step at a time is what the youth of this generation should be doing and I think THC has set the tone for just how it should be done, simplistic videos, complex lyrics and beats that will make you day dream. It's all good with Tekst, Matty J, IB Profyn & J Glaze cuz once you listen to their music, watch their videos and bob ya head to the beat, you get to know these guys on a personal level and that's what hip hop should be about, a connection between fan and artist."
Also check out THC on these sites:
Thanks to everyone who blogged or wrote about us, we can't get the word out without your help!  If you have blogged about us but aren't included in this list, LET US KNOW! We are more than happy to include you!  Peace Peace!